Ecuador - Cuenca
A couple of ways to get to Cuenca from Quito: 1.) Take a 10-12 hr bus ride for about $12. 2.) Catch a 40 minute flight from Quito for about $50 one way. 3.) Catch a 40 minute flight from Quito to Guayaquil, then a 4.5 hr bus ride to Cuenca. We did option three, but this round about way was before our plans had changed. Originally we were going to fly to Guayaquil, then bus it 6 hrs to Salinas on the coast, then bus it 11 hrs to Cuenca, via Guayaquil. Being Ecuador, flexibility id paramount and so when the Salinas part of the trip fell through, we went by bus to Cuenca. If we had known the Salinas part was not going to happen, we would have flown straight to Cuenca from Quito, oh well...Below you will see my first impressions of Guayaquil. I was not that impressed & apparently most folks that I have spoken with that have made their way through Guayaquil echo the same thoughts.
From the second the doors of the airport opened the oppressive heat and especially the humidity hits you like a ton of bricks. You are not in the sierras anymore and the nasty humidity of an Ohio July would be welcome relief. Simply stated my first impression was "it sucked".


The 10 min cab ride to the bus terminal just added more sweat, but thankfully the bus terminal was cooler. The bus terminal is simply huge. I thought it was a sports stadium at first. Inside is basically a shopping mall on 3/4 of it and 1/4 is the rows of about 100 bus companies that can take you anywhere.


The busses are at the top, 4th floor, and outside of course. Again the humidity is oppressive and it just gets worse and worse. We got on our bus after about a 20 min wait and thankfully it had air conditioning. It had a bano but it was locked and going to stay that way. The 4.5 trip would not be fun if no one could pee.


I was so happy to be moving east toward the sierras and away from this sweltering climate that a bano was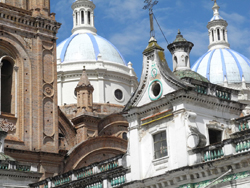 far from my mine at this point. About 2 hr's in the obligatory vendors hopped on and a short while later the bus pulls in to fill the gas tanks. Ninety percent of the bus empties, including me, and heads to the bathroom...quite an exodus for sure. The coastal plain had given way to the sierras and accompanying cooler climate with little humidity. Now the AC was barely needed as we climbed to almost 12,000ft. The scenery and mountain forests were spectacular. The final hour of the trip was spent descending to about 8,000 ft and into Cuenca. The sure tip off that you are there are the three blue and white domes of the cathedral that tower above all else and can be seen from a good distance away. A very welcoming site, only topped by actually having a view of the cathedral from a seat in the plaza a stones throw away.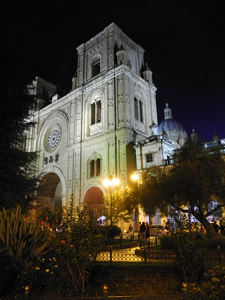 Whether or not religion is your thing at least agree that fine architecture is worth a look. Cuenca has amazing churches and that darn cathedral, all of which are spectacular buildings at the very least. The streets are a pleasure to walk and something interesting always seemed to pop up around every corner. Cuenca is a beautiful colonial city, despite the (at times) mind boggling traffic, it is extremely fun to walk around everywhere and simply explore. That coming from me says something as I really despise cities in general and prefer the campo any day. However I would not think twice about returning here.
The first place we crashed at upon our arrival in Cuenca was the Hostal Orchida. We arrived basically blind and with no reservations at any hostals. Our room was typical, plain, but clean and a place to sleep. Pricey at $25 for the two of us total. But we arrived the day before good Friday and rooms were at a premium. This was the last one and only available for Thurs.
The toilet ran like crazy and noisy all night long. It also did not have a seat. We asked but the hostal were apparently all out. The shower had very hot water and had loads of pressure, that was great. Overall the bathroom was very clean, despite not having a toilet seat. We did however find 3 bottles of beer in the tank all chilled...how long they had been there is anyone's guess. So check your toilet tank if you stay here.
Breakfast was not included, but the hostal offered it for $1.75. Basic continental, with awful coffee, nothing special. Free internet was available, but very slow.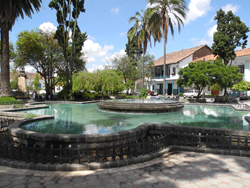 There is a bar just down (away from the big blue / white church) and across the street that was nice to sit, people watch and enjoy a beer.
We put in a call to my buddy Roger and asked him to call a few other hostals for us and he found one with the last 2 dorm beds available for $7 each & of course we took them. this other hostal is about 5 blocks from the hostal Orchida, or about a 10 minute or so walk.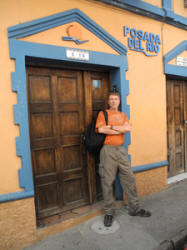 Found the Mercado municipal and it was very nice to explore everything it had to offer. Whole cooked hogs, all types of fruit and veg, fish, you name it. If you are visiting Cuenca, don't miss a trip or three to the market. It is fabulous!
The next day we changed hostals & got a room at the Hostal Posadas del Rio. Wow...$7 a night for the dorm. Very nice and friendly & a very good bargain for sure. Rooftop terrace area, well stocked communal kitchen, big shared common place with balcony that overlooks a quiet Cuenca street. Shared bathroom with suicide shower. The water was hot, but it took a couple of minutes, which to me is no big deal. Hot showers equal happy significant others equals happy trip. A quick tip on the showers....use the top floor one and don't use it if one of the other showers is being used as that pretty much cuts the flow to the hot water flow side of things. Also turn the shower on as soon as you close the bathroom door and let run for a while. I had very hot water, but only after the lower floor shower was off.
Buddy Mike (whom was traveling with me for two weeks) got a private room with shared bano for $9 (each) for him and a friend that came up from south of Guayaquil.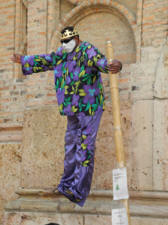 The dorm was more than adequate with 5 beds and afforded some good conversations. There were a couple of gals from Germany a Guy from Ireland and another from Norway as dorm mates. The beds were comfy and with plenty of warm blankets.
The internet was fast and wireless also available for gratis in the common room. Also a TV and stereo along with plenty of couches, chairs for lounging and tables and chairs for everything else, like cards.
Several nice places to eat or have a beer, or tiendas to buy beer for even cheaper. One place in particular has a coffee and chocolate coffee laced with plenty of white rum for about $2. This was excellent and took care of my chocolate and coffee cravings with that added extra kick. The place is located across from the main plaza by the cathedral. It is called "cafe cantaro". The food was not as barato as street vendors, but very inexpensive none the less and plentiful. The service was also very good and the wait staff courteous and friendly. I would walk up here each morning for my coffee and to people watch.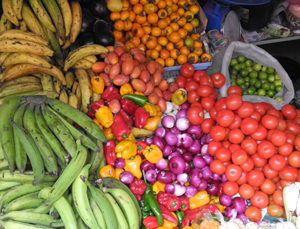 The big Mercado municipaledad (which I mentioned earlier) is only a short 10 min walk. As is the main plaza and cathedral. Just a few words about Cuenca...it is a beautiful old colonial city at its heart. The newer city has evolved around the older colonial part, so stay in the old city for the best sights. The churches and the architecture are wonderful. The streets are narrow and great to walk around, day or night. The weekends are fun, especially on the main plaza and around the cathedral. You can find all sorts of street artists, vendors and much more all around the plaza. There is also a small but colorful flower market just along the side and across the street from the cathedral (as you look at the front of it). There are plenty of great panaderias for great pastries and the people are extremely friendly. Walk the streets in the evenings and sample some of the plentiful food available from the local vendors. The climate is just about perfect day or night.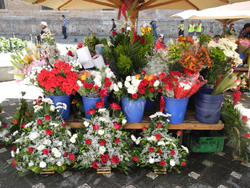 From the terminal de autobus get a cab at the road not inside the terminal and save yourself some coin. From their to the posada del rio should be no more than $2.50. Haggle a bit and you can get there for $2.00, but don't pay more. Just hail a different cab if the driver tries to charge you more.
Just down the steps across from the hostal is a nice bar and eatery called "wunderbar" very relaxed and a great place to have a beer under the shade of the trees and enjoy the scenery.
One of the best things to do at about any time of day or night is to find an empty seat in the plaza and people watch. The plaza is alive and ebbs and flows like nothing else.
We flew out of Cuenca to Quito on LAN for about $50, pretty cheap (LAN is a very good airline). If we would have booked a round trip flight instead of originally flying into Guayaquil and then bussing it to Cuenca, we would have saved a few bucks more for a round trip. I made our reservations online without any issues. As a quick note of interest...when I booked our flights to Manta & back to Quito when Lori & I spent time on the coast we flew AeroGal (Aero Galapagos). It was a great airline and even let me pay for the tickets using Pay Pal.
Various images of Cuenca, Ecuador...