Ecuador - Otovalo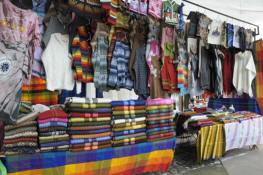 Situated a mere two hour bus ride from the north terminal in Quito and about forty five minutes south of Ibarra is the town of Otovalo. Most famous for its market that has apparently sat in the same place for over a thousand years. This despite being touristy, is something not to be missed. The big days are Saturday and Thursday, but the market is big regardless each of the other five days no question. Saturday the whole market overflows up and down adjoining streets and you can find all manner of items. From pots and pans to alpaca blankets to silver jewelry. We have visited the market several times and it is always a great time and a cornucopia of color for the eyes. You can never have enough hammocks I always say and a walk through our woods back in the states bears this statement out. But for $10 it is a bargain for sure, even though the price usually starts out around $20. It is basically an insult not to haggle there for everything you see. They start high and you should start low and see where it goes. I have had a lot of fun doing this and regardless everyone seems to be happy when all is said & done. Walk away a couple of times and you may find the person with what you wanted at y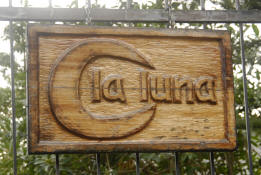 our price tapping you on the shoulder a half hour later and a couple of rows over. Saturday's market also has a lot of food, soups of all kinds and fresh fruit that was most likely still on the trees a day before. It is not uncommon to see folks walking around holding a half dozen live chickens by the legs...tonight's dinner possibly? So if you are in Otovalo, do check out the market, it is something to be seen.
When we are in Otovalo we have stayed at the Hostal La Luna (Just tell the Taxi driver to take you to La Luna de Mojanda). This hostal is run by a British guy named Keith or maybe Kevin, regardless it starts with a "K" and his Quitana wife Tamara. They are located about a ten minute taxi ride from the main road where the bus will drop you off. The cost is typically $4 for a the cam, regardless of the amount of people. When you are coming from Quito just ask to be let off at the f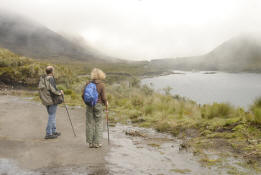 irst stop in Otovalo and not the bus station. This will save you a bit of time and a buck or so in the taxi fare. Once off the bus just wait for a taxi to come down the main road and flag it down, there are plenty so be patient if the first few don't stop.
Hostal La Luna sits near the road to Lagunas Mojandas, a big park that is full of lakes and wide vistas. he Vulcan Fuy Fuy is also there and can be hiked in a couple of hours. The lagunas sit at roughly 12,000ft and if you climb the volcano you can top 14,000ft. There are many places to hike and enjoy the scenery it is a great way to spend a day or more while in the Otovalo area. The folks at La Luna can call a taxi to take you up to the top which takes around 45 minutes. We actually had the cab pick us up and take us to the top and then come back several hours later for about $20. Alternatively we had one wait for us on another trip and the cost was around $25 I believe. Or if you want you can either hitch a ride to the top and back or simply walk it. You gain about 3,000ft of elevation from La Luna which sits at around 9,000ft.
La Luna as I started to talk about before the above tangents is a well run hostal that is very inexpensive. A dorm room with a shower (water between warm & hot, but very tolerable) costs $8 a night with a towel being an extra dollar if you need one. There is a small gas stove that you can cook with if you desire. The main building has a nice common area and in the evenings is awash in some great music from the owner's collection. They have several dogs that are well taken care of and wander the place, it's nice to pet them while thinking of the ones we left to wait for us back in the states. Their meals are all hand cooked and very good, they don't skimp on anything. Prices for breakfast range in the $2-$3 and dinner around $4. Lunch can be had for around $3. They have beer and wine and some mixed drinks available all really cheap, which is a good thing.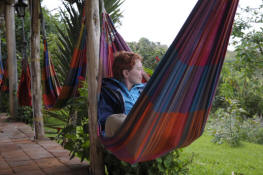 La Luna can also suggest day hikes around the area or set you up with guided treks, so if you are not sure what you want to do, then they can make some very good suggestions. Regardless of if you just want to veg out in a hammock or do some off road treks in a jeep they can help you. My perfect spot is in one of the many hammocks they have with a beer in one hand and simply by turning my head to the left or right I can see a different volcano, amazing. In the morning after a rain when the skies are clear the tops of the volcanoes are snowcapped, this melts during the day and returns the next night after a rain. The volcanoes are several thousand feet higher and what falls as rain at La Luna falls as snow on their peaks.
Getting to Otovalo is pretty straightforward, from Quito make your way to the north terminal and catch a bus to Otovalo or Ibarra or Tulcan. The bus ride from Quito will be around two hours or so.
NEW (Update April 2012): This was my third time at La Luna and as usual the place was very nice, friendly and tranquilo. The biggest letdown though this time was the increase in prices. Last year they bumped the dorms from $7 to $8 which was not too bad. However this year they increased to $12 which is kind of extreme and for me makes this a borderline place to stay in the future. Yea it is cheap compared to places in the states, but for trekkers it is expensive.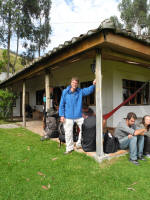 Not only has the Riggs gone up, so has the food on the menu, about $2, or by a third since last year. Towels have always been a buck extra so pack one if you can.

I wont lie to you, we do enjoy staying here but now really consider this a place to stay and have a splurge. There are many hostals that are cheaper and adequate in Otavalo. Another alternative might be Hostal Rose Cottage about a mile or so down from la Luna on the way to Otavalo. We have not stayed there but have a brochure and it looks very nice. The dorm was $10 a person and they were willing to knock off a buck a person when I e-mailed them and asked them if we could get a cheaper rate if we stayed multiple nights.
One other alternative to La Luna, not quite as nice or scenic, but right in the town is Hostal: Valle de Amanecer. The room rates are (as of this writing) $12 a person for a private room with a shared bathroom, one person with a private bathroom $15 & breakfast is included. These prices are also high but you don't need to pay $5 each way to get up to La Lana or Rose Cottage, so you will save that cost each time. We stayed at this hostal a few years back and it was nice. It did have hot water for showers, the breakfast was ok, nothing special. There is a big central courtyard with tables, trees with plenty of hammocks for lounging. The staff was friendly. The room we had was like a small box with enough room for a bed and our two backpacks, so it was tight, but adequate. Back then I don't remember us paying more that about $9 per person for the room, so things have gotten more expensive. But again it was a place to crash/sleep and then head out to explore Otavalo. The phone number for this hostal is: (593) 06.2921.159 Their e-mail is: hostalvalledleamanecer@hotmail.com
A great afternoon out: Catch a cab to Laguna de Mojanda, $10 from la Luna and in about 30 minutes you will be at the park, some 3000 ft above la Luna. The trail to the top of volcano fui fui is steep and arduous but
do-able if you take your time and don't overexert yourself. The elevation gain to the summit is about 2000 ft and the top sits at about 14000 ft. The views are spectacular, if you have a good day, as we did. We pushed ourselves and made the summit in about 1 hour and 15 minutes. The trip down was dicey in only a few places, however I did use my walking stick which was a huge help both up and back. Pack for rain as it is the norm here. We lucked out with perfect weather this time, alough thunderstorms could be easily seen all around and into the distance. Well worth the effort and as I write this I am enjoying a cold beer with a good smile on my face. This was actually the third attempt to get to the top of fui fui, the other two tries were no good due to fog and rain. Basically there were about ten of us from la Luna that headed out to do the volcano and five of us made it to the top. When we came back down, we had some extra time and did another two hour hike back around the lakes. The day trip to Lagunas Mojandas is always a fun one.
Images from the Otovalo & Lagunas Mojandas areas...