Colombia - Medellin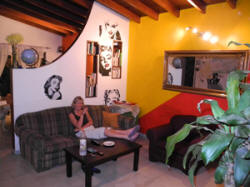 We spent a total of 5 nights in Medellin and had a fantastic time. Our first real trip into the interior of Colombia, having been to the frontera area just north of Ecuador twice, it was high time to visit a bit more of this great country. Firstly let me give you the skinny on where we stayed in Medellin, then I'll give you some info on what we did while we were in the city.

We decided on the the Yellow House Hostel after checking out several other hostels online. We made a good choice as this was a great place to relax and feel very comfortable. Vincent, the owner is very sociable and is always sweeping, moping, or generally keeping the place basically spotless in some fashion. His breakfasts are very nice and filling, whichever one you decide to have off of the menu. He has two dogs, one a yellow lab and the other a golden retriever are very friendly and playful...a joy to have around. Vincent does speak English, as well as his native French and of course Espanol.

The showers are very hot and the water has great pressure. It's nice to be able to enjoy a good hot shower, especially after a long day of traveling. The rooms are adequate to more than adequate and if I had anything to say that might improve them it would be to have a small fan in the inside rooms. This would move the air around a bit more. The rooms that are open to the outside already get a nice breeze so no fan is needed. But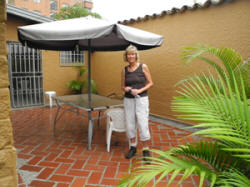 overall our 5 days here were very pleasant and comfortable. One other nice thing to mention is that this hostal is not a "party" hostal. So it is muy tranquilo. That doesn't mean you cant enjoy a beer or adult beverage. It simply means that rowdy or raucous partying does not happen here. You can enjoy your stay and have a peaceful night's sleep. Which in some hostals is sometimes difficult. I would recommend the yellow house for a friendly and relaxing stay in Medellin. One other note worthy thing is that it is only 5 minutes from the metro station (Floresta) and there are loads of tiendas, restaurants and a supermarket, plus more right by the station and continuing down the street. So everything is within 10 minutes of the hostal. It is also very safe during the day as well as in the evening. At the time of this writing rooms were approx COP $20,000 for a dorm and COP $55,000 for a double with a shared bathroom/shower. COP $5,000 more would get you a double with a private bathroom/shower. So check their website and/or send Vincent an e-mail for the current prices and to make reservations. He will also arrange for a cab to pick you up at the airport if you ask.
Our arrival into the Medellin airport was after dark and the views of the city from the air were spectacular. We had Vincent have a cab waiting for us at the airport and as soon as we exited the customs area our driver was waiting for us with a large sign with our name on it. The drive from the airport to the city is about an hour and that made for some good conversation with the cab driver. Once we topped the mountain and started to head down into the valley where Medellin sits, well, it was amazing! The views of the city and all the lights made for some great sensory overload. There are several miradors (viewing spots, aka Kodak moments) along the road that afford a great place to just soak up the views.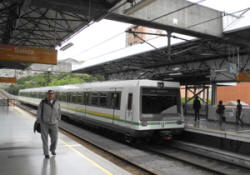 We arrived at the Hostel about an hour later and got settled in, had a bourbon and then hit the sack. The following morning we got up and relaxed a bit before heading out. Vincent had good coffee made (alough he had added sugar to it, which I don't normally have in my coffee. Still, it was good) and we had one of his very filling breakfasts. We chatted with him a tad to get an idea of the Metro and out the door we went. The metro station was about five minutes from the Hostel and a total breeze to navigate. It runs like a spine through the city, extremely easy to use, very clean and very cheap. There are two aerial trams that link the higher mountainside barrios of the city and one even travels to a 17,000 hectare (34,000+ acre) national park that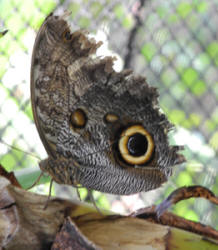 sits high above the city.

We visited several places during our time in Medellin, including the aforementioned National Park. The park has many things available from guided two or three hour walking tours to bicycle rentals to adventure sport related activities. One thing to mention is that it was much cooler up there than back down in the city, so bring a light jacket. Also the chance of rain in the park was also a tad higher, so keep that in mind too. There were some tasty local vendors set up that sold local food dishes. They were both really good and very inexpensive, so take advantage of the culinary delights when you are up there.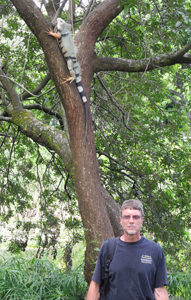 Another place we visited was the Medellin Botanical Gardens. This was a really well laid out garden complete with a slew of very large iguanas that roam about freely. Sometimes they were in the trees above you & sometimes they were lumbering around on the ground, but they were very colorful and made for some great photos. The garden also had a cool butterfly house which you can enter and surround yourself with many of these amazing creatures. You can also see them in various stages of development, through the windows of the lab in which they are propagated. The garden has plenty of walking trails and beautiful trees, I believe that it has been in Medellin for going on fifty years now. We spent a couple of hours walking around and enjoying all the greenery & animal life. It was hard to believe that a city of almost 2.5 million people lay just outside it's doors. The Botanical Gardens was free to the public, and that was a very good deal.
A stop by the Museo de Antioquia was also on the docket. If you like art you'll love this place. Botero, the world renown Medellin artist donated many of his sculptures and paintings to the museum. So many that they had to place twenty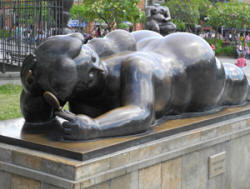 three outside in the plaza. His works are amazing and matched only by his paintings housed inside. His work is hard to describe, but I would imagine that you will not see anything like them anywhere else. Besides Botero, there was a whole slew of other fine works of art. It was another relaxing way to spend time in this very cosmopolitan city. The cost for the admission into the museum was $10,000 COP or about $5 US, pretty cheap admission and well worth it.
We spent some time one morning and afternoon walking around the Poblado area of Medellin. This is the place that goes nuts after dark, with bars, restaurants and all sorts of night life. We opted to walk through at a more sane time (while it was still daylight) and enjoy the relative peacefulness. We stopped at a small place for lunch and a couple of beers and to people watch. It was a nice afternoon for sure.
One thing to mention is that we took along our cell phone that we bought to use while in Ecuador. It's just a bit of peace of mind to be able to call the family in the US if necessary and we can also txt folks too. Anyway, it's a Claro based phone service and at first would not work in Colombia. I took it to a cell phone tienda that had a Claro sign on it and for $5,000 COP or about $2.50 US they installed a SIMM chip in it that would work in Colombia. Now we had a chip for both Ecuador and Colombia, so the phone was good to go in either country. This was a great and cheap option and kept us in contact with friends and family.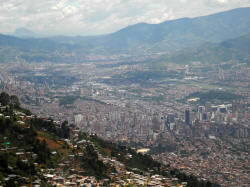 One final thing to remember is that we felt very safe and secure in Medellin. Common sense is always smart regardless of what ever city you are in on the planet. But overall the city was clean, friendly and very vibrant. It seems to have finally shaken off its past reputation of being the murder capitol of the world, which is a good thing. After Pablo Escobar was killed by the Colombian forces back in 1993, the city finally turned a corner and has not looked back. It was truly a beautiful city and one that we would like to return to again in the future.
Ok, I guess this is the real "one final thing"...the family of Pablo Escobar offers a tour (half day I believe) that highlights a bunch of places that are associated with Pablo, including his grave. You also get to tour his previous home, etc. We did not have time to take the tour, but folks hat have said that it was pretty good. The cost per person was $55,000 COP or about $30 US. The Yellow House Hostal has info on it, so you can ask Vincent about it. If you stay someplace else I am sure that the Hostel owners can tell you all about it also.