Colombia - Guatape
Guatape is an easy 2 hr bus ride from the north terminal of Medellin. The terminal itself is linked by a walkway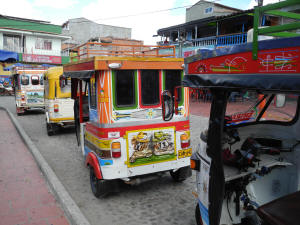 to the metro, what could be easier. To get to Guatape find the #9 ticket booth, and from there simply tell the person in the booth you want to go to Guatape. Busses were running every hour on the half and for us the fare was COP $12,000 or $6 US each.

After about a half hour you are out of the Medellin valley and off into the beautiful Colombian countryside. The largest town, called el Penol, is about 20 min from Guatape so that should give you some time frame for the end of the ride. You will also start noticing a bunch of water inlets and what might appear as separate lakes. This is all one large lake that was dammed back in 1970 for hydro electric. This lake and I think two smaller dams provide over 60% of the electricity for Colombia.

The lake is huge and reminds me of lake Cumberland in Kentucky. It is a great place to fish, boat, swim, relax. There are some beautiful homes that dot the many thousands if islands and peninsulas that have formed since it was dammed. Hiring a boat for an hour or two is a great way to see some of the lake and have a fun time on the water.

But I digress...once the bus has stopped in Guatape, next to La Fogato's Asado, cross the street to the lake side and continue walking toward the bridge. Cross the bridge and the gravel road on the right will take you to the Lakeview Hostal. It is about 300 ft from the main road and has plenty of signage on the front and side, you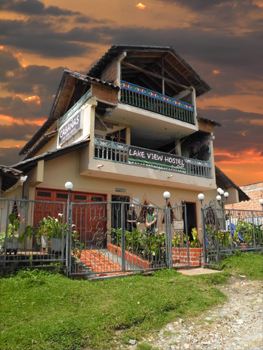 can't miss it, trust me. One of the owners is Greg, an American, the other is a brit and unfortunately I can't remember is name, both are very friendly and helpful. Rates at this writing were COP $20,000 or about $10 US for the dorm, per person. Our double with private bath was originally COP $60,000 but as we were staying 3 nights he offered it to us for COP $50,000 or about $25 US for the room (not per person). The room was fine by us, typical hostal digs, space to spread out our gear, place to lay our heads and the shower had hot water. Typical suicide shower setup, but it produced hot water and that's what counts. The folks staying at the hostal were very friendly as is typically the case at every hostal we have stayed at. The place quieted down not too late, with some quiet conversations lingering into the morning, but not anything that was even remotely annoying or that would disturb someone sleeping. There are a couple of full kitchens with fridges that you can store your food and cook your meals. The wifi is free and worked quite well overall. There is a nice balcony that you can sit outside on as well as tables and chairs out front on the ground floor. The hostal offers both bicycles and kayaks at very reasonable rates. You can also use their fishing rids and try your luck at some lake trout. Overall we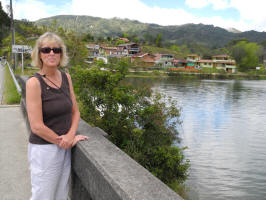 enjoyed our stay and would stay there again.

But to be fair I must mention that Saturday night in Guatape can be nuts. Sunday through Friday, great, tranquilo. Saturday all the paisas from Medellin come for a visit and to let loose. If you like all night partying, then this place on a Saturday is for you. If you don't then either bring earplugs, stay away or put up with the lack of sleep and don' t complain on Sunday morning. To be clear, this is nothing to do with a loud hostal, it has everything to do with a bunch of paisas arriving and wanting to go nuts until the morning, sometimes past 6am (no shit). We were well aware of the Saturday night in Guatape from the start, read lonely planet and you will see it noted. We brought earpl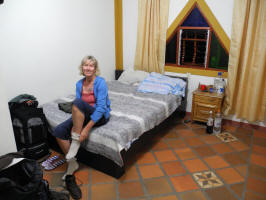 ugs and just dealt with it.
The other days here were muy tranquilo and quite enjoyable. There are plenty of restaurants along the main road and cafes all around the main plaza, which was great for people watching. One restaurant called La Fogota had good food and Medellin area micro brewed beers. About a half dozen choices of the micro brewed Apostle brand along with the typical Colombian brands. The Heffe Weizen was very good, so I had three. We stopped at a local panaderia (bakery) & cafe each morning, & sometimes in the afternoon also, for a coffee & a pastry. This place was right on one of the corners of the main plaza. If you are facing the plaza with the lake at your back and the church on your left side, next to the road that passes directly in front of the church, the cafe will be directly in front of you on the left corner (basically across from the plaza). There are plenty of outside tables and umbrellas. You cant miss it as it is the only place that actually looks like a Panaderia with breads & pastries. I believe there is a disco/night club that sits above it. Anyway it had good coffee and my wife liked the cookies. Just a relaxing spot to enjoy the day.

We hired a boat one morning and had a great time on the water. Visiting several of the "local attractions" for example...the now bombed out former residence of the late Medellin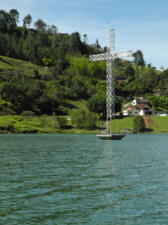 Drug Cartel leader, Pablo Escobar. His home, and private disco are a shadow of their once former selves. Pablo Escobar was finally gunned down by the Colombian Authorities back in 1993, thus effectively ending his rein of terror and hold on Medellin. The city has really made a come back in the years since and is a beautiful and cosmopolitan place, much safer now. His home sits right on the tip of a peninsula & the boat stopped and let us get out and walk around what remains of his home & pool. We were even shown where one of his "secret" tunnels from his home to the lake had its entrance. The lake was dammed back around 1970 and along with a couple more lakes, now produces almost 60% of Colombia's electrical power. The lake is what has transformed the area into this getaway mecca for Colombians. The old pueblo of el Penol was submerged and the people and whatever they could haul, had to be moved to higher ground. Unfortunately this didn't include their main church, which now sits almost 150ft below the surface of the water. There is however a large cross that sticks up out of the water in the middle of the lake. This is actually the very top of that church and despite its simplicity, it is quite a sight to see. Each year they hold mass around the cross, with the faithful in their boats as well as the priest. The lake has many beautiful homes with impeccably manicured lawns which shows the side of Colombia that does have the means to live quite comfortably. I have been told that some of the homes are had with "narco" money, but that of course is for the Colombian government to decide. The views of the always present la Piedra are quite stunning from the lake, with its zipper like staircase and souvenir shop at the very top visible for miles. There are even party boats with bars that hold a shitload of people, but these seem to mainly operate Friday through Sund
ay. There is a great zip line right on the lake edge that also operates on the weekend and for COP $10,000 or about $5 US it is a bargain and a bunch of fun. We rode the zip line and had a blast, all along thinking that this would be about fifty bucks back in the states and that the meager seat and restraints used would never fly with the safety current regulations. So basically a zip line operated like this would ultimately be shut down for safety concerns....so glad this one wasn't because it was a hoot!

Last but not least is this rock...la Piedra. You can't miss it as it towers over the Guatape area and is, besides the lake, the most famous thing in the region. It is a huge chunk of granite around 600ft - 700ft high, with, of course, a snack bar and gift shop on the top. The climb to the roof top of the gift shop is 740 steps. The staircase leaves much to be desired, but has lasted this long at least. The views become better and better with each passing 50 steps, until you reach the top, where the vistas are simply beautiful. The size of the lake becomes crystal clear, the mountains are spectacular, it is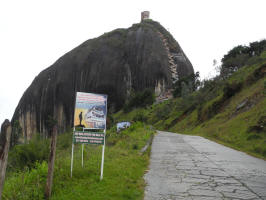 just great. The cost is COP $10,000 or about $5 US a person. A bus from Guatape to the base of the road that takes you to la Piedra costs COP $1,500 or about ,$0.75 US. Or for a tad less to about the same you can hire a jeep from the plaza, next to the produce market. They will drop you off at the same place, but won't leave Guatape until they have a full load if passengers. The walk from the drop off point is an easy 10 - 15 minutes and really lets you see how big this chunk of granite really is. Very impressive for sure.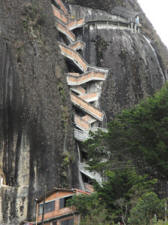 Our overall experience in Guatape was extremely positive. I mean we basically said one day while we were having a bourbon at our hostel in Medellin..."well where do we want to go next?", then saw this place and it's small entry in a Lonely Planet guide and said..."this place looks cool", and a couple days later we arrived. The hostal was perfect, the people we met were friendly and helpful, the scenery very nice and the weather couldn't have been better. The climate here seems to be mostly spring like, due to the higher elevation. We had some rain over night and sunshine during the day, no humidity, just warm sunshine, what could be better.
A few more images of Guatape...